Map
Jump to navigation
Jump to search
Needs verification. The in-game text is not comprehensive.
The base Move Point cost to move into a hex is as follows:
Terrain
Cost by movement type
Default
X Walk
Floating
Flying
Water
4
n/a
4 (must embark like other units)
Road (overrides underlying terrain)
5
4
5
5
Clear
6
5
5
5
Rough (Forest, Rocky, etc.)
8
6
5
5
River
12
6
5
5
Chasm
12
8
5
5
Mountain
16
8
8
5
"X Walk" refers to traits that provide a movement bonus on that type of terrain.
Armies that are building roads benefit from them as they move.
Friendly domains reduce Move Point costs by 2. This can be reduced by another 2 with Rangers, the penultimate Nature empire skill. The final move point cost cannot be less than 2.
The Underground is a second layer of the map. The view between Underground and Surface can be changed by the arrows button on top of the minimap.
Armies may travel between the surface and the underground using Underground Passages. Cities cannot annex provinces through an Underground Passage.
With the Excavation Empire Skill, Diggable Earth provinces can be excavated by armies in adjacent hexes. Each army may excavate one province per turn. Such provinces can also be excavated using the Earth Shatter spell. Most provinces containing Uninhabitable Bedrock cannot be excavated, though some do contain an excavatable channel of Earth. Excavating a province may reveal a pickup or a monster army.
These give extra resources when annexed. They also enable additional types of improvements in their province.
Resource Node
Annex resources
Enables province improvements
Pastures
Oasis
+10 Food
Iron Deposit
+10 Production
Mine
Quarry
Gold Vein
+10 Gold
Mine
Mana Node
+10 Mana
Conduit
Research Post
Similar to Resource Nodes, Magic Materials give resources when annexed and enable the

Conduit and
Research Post improvements in their province.
Furthermore, owning a Magic Material also gives a global bonus. Owning all three Magic Materials of a type will give an additional global bonus. Multiples of the same Magic Material do not stack their global bonuses. Magic Materials can be traded with Free Cities and other Rulers.
Type
Collection effect
Magic Material
Annex resources
Global bonus
Ores
Heroes gain:
Arcanum Ore
+10 Production
+10 Mana
Hurry Recruitment for Units is 25% cheaper.
Focus Crystals
+10 Gold
+10 Knowledge
Units gain +10% Experience.
Fireforge Stones
+20 Production
Units cost 20% less Draft.
Liquids
Mana Nodes grant +10 Mana and Knowledge.
Archon Blood
+20 Mana
+20 Combat Casting Points.
Astral Dew
+10 Mana
+10 Knowledge
+20 World Map Casting Points.
Tranquility Pool
+20 Knowledge
Researching Spells cost -10% Knowledge.
Plants
+10 Imperium income.
Haste Berries
+20 Draft
Founding, migrating, and absorbing Cities takes -2 turns.
Silvertongue Fruit
+10 Food
+10 Draft
Whispering Stones give +1 Allegiance.
Rainbow Clover
+5 Imperium
+10 Stability
+100 Relations with Free Cities and Rulers.
An Ancient Wonder is a location that has to be manually explored by a single army led by a Hero, triggering a battle with a unique map layout. Depending on empire resources and affinities, it may be possible to reduce the difficulty of the battle or avoid it entirely. Once cleared, its province can be annexed, acting as a super-improvement with high yields, additional city- or empire-wide bonuses, and adding units to the Rally of Lieges. Ancient Wonders cannot be razed or pillaged, but can be captured by hostile units. Ancient Wonders come in Bronze, Silver and Gold rarity. The rarer the Ancient Wonder, the more difficult its defending army is and the greater its rewards.
Each Ancient Wonder on the map has a randomly generated name; the names here are as shown in the in-game encyclopedia.
Ancient Wonder
Rarity
Improvement type
Yield
Effects
Rally of Lieges
Ancient Cave
 Quarry
+5  Imperium
+20  Production
-5  Stability
+2  Mana per  Quarry in city domain.
Stormscale Serpent
Plague Serpent
Castle Ruins
 Research Post
+5  Imperium
+20  Knowledge
-5  Stability
+5  Fort Health per  Quarry in city domain.
Can be set as unit deploy location .
Brewer Ogre
Butcher Ogre
Crystal Forest
 Conduit
+5  Imperium
+20  Mana
-5  Stability
+2  Mana per  Conduit in city domain.
Astral Keeper
Hidden Wellspring
 Farm
+5  Imperium
+20  Food
-5  Stability
+2  Stability per  Fishery,  Farm, or  Forester in city domain.
Units in city domain heal +30  HP per strategic turn.
Spring Fairy
Summer Fairy
Autumn Fairy
Winter Fairy
Lost Tomb
 Research Post
+5  Imperium
+25  Knowledge
-5  Stability
+2  Mana and +2  Knowledge for each hero in crypt.
+1  Souls per hero in crypt with Soul Harvest.
Corrupt Soul
Magma Forge
 Mine
+5  Imperium
+15  Draft
+10  Gold
-5  Stability
Units cost -25%  Gold to recruit.
Fire Giant
Secret Temple
 Conduit
+5  Imperium
+25  Mana
-5  Stability
+2  Knowledge per  Research Post in city domain.
Blessed Soul
Golden Ziggurat
 Mine
+5  Imperium
+30  Gold
-5  Stability
Magic Origin units cost -50% upkeep in city domain.
Note: Unit upkeep cannot be reduced by more than -50%.
Phoenix
Lost Wizard Tower
 Conduit
+5  Imperium
+15  Mana
+15  Knowledge
-5  Stability
Counts as a Spell Jammer. (Enemies cannot use spells in city domain.)
Wizard's Bombardment siege project (15  Fort Damage).
Bone Dragon
World Tree
 Forester
+5  Imperium
+15  Food
+15  Production
-5  Stability
+2  Mana and +2  Knowledge per  Forester in city domain.
Entwined Thrall
Entwined Protector
Entwined Scourge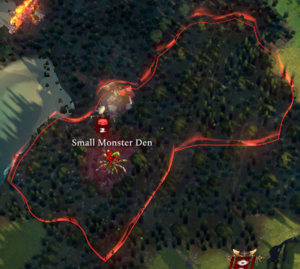 Infestation are sites that spawn hostile armies. If an Infestation is not cleared within a number of semi-random turns it will become active, expand and possibly create new armies. Unless the World Threat realm setting was set to Passive, new armies will attack the nearest city. Provinces with an Infestation will have a glowing red border. Defeating an infestation grants significant rewards.